KZ DESIGN GROUP principle designer and owner, Kathleen Zbacnik, ASID, IIDA, CID, was interviewed by AWE TV, a wealth of entertainment, and walks through each room with the producer to explain all the amazing details. Don't miss the video when it airs on May 4th at 8 pm PDT on AWE TV, "Behind the Gates."
Here's a preview:
Behind the Gates: Coastal Compounds from Anjie Balla on Vimeo. High rise luxury living is exquisitely expressed in this 4500 sq foot penthouse situated 41 stories above San Diego Harbor. The spectacular view of the bay, Coronado bridge and the ocean are surpassed only by the meticulous attention to detail that the designer, Kathleen Zbacnik, ASID, used to design the interior. Petrified wood surrounds the fireplace in the living room and encompasses the entire wall; Mother of Pearl lines the walls in the foyer; Bedazzled glass beads glisten on the barrel vaulted ceiling, and Honey Onyx is back lit in the master bathroom creating even more drama.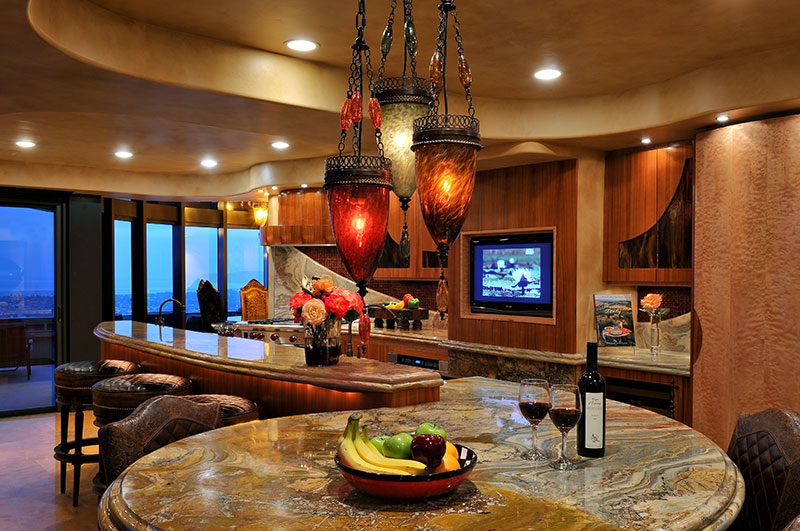 The entire two level residence is fully integrated through Savant and lighting, climate, shades, and audio video are controlled effortlessly though the iPhone or iPad. The owners, who use this as their second home, can check in on their penthouse through the security cameras and can even enjoy the sunset on the harbor from their home in Texas!